Check out the College's updated website: http://alumni.dartmouth.edu/
The College alumni website provides classmate information easily. I've summarized some of the features below, but you'll really need to click on the website and conduct your own exploration.
The directory access features have been changed since my earlier summary and are more difficult to follow. The clips of web pages will hopefully lead you to a useful search.Here's a shot of the website: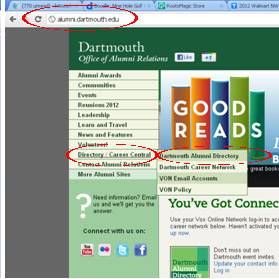 .
In the left hand column, move your cursor over the tab labeled "Directory/Career Central" and click on the tab "Alumni Directory"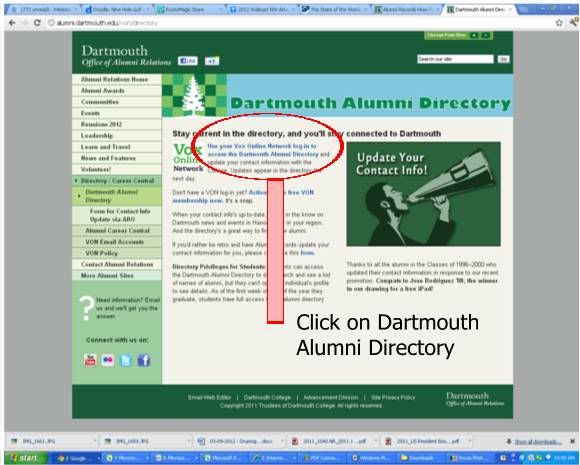 Here is the misleading part. Click on the blue print to the right of the green VOX. You may now be required to log in using your VOX access. If you have never logged in, just follow the instructions and once logged in you will come to the first Directory Screen.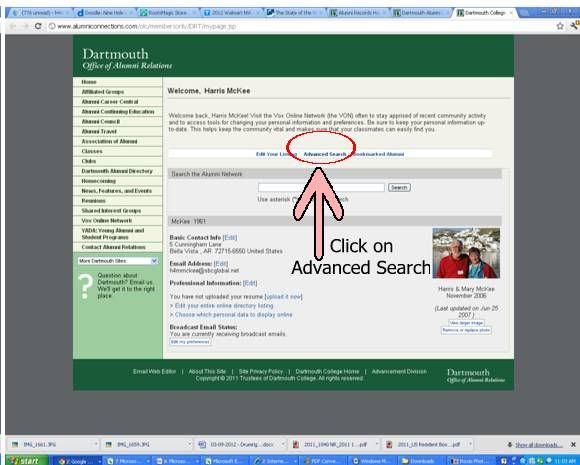 You can plug someone's name into this page and you may be able to find them but I recommend that you not bother. Instead click on the Advanced Search label which will take you to the all-purpose page.
The directory function can be a useful tool for looking up information on classmates. I recommend this as a first step in locating an address or phone number before you contact me. A particularly interesting feature is the ability to send email to alums even when they have asked the college to suppress their email address. The email is sent without the sender learning what the address is. This system is also supposed to prevent the Crawler Search engines that Spammers use from being able to find your email address as well.
Tom Conger has pointed out that the alumni lookup doesn't do well with too much information. He couldn't find my information when he plugged in "Harris Bonar McKee". Using the Advanced Search that lets you enter such detail as class does find me with just "McKee" and "1961" in the class line.
Basically the search is the same as before except a better format and different update feature. Using the Advanced Search you can look up by name, class, by regional club, city, state, country, degree major and school - you can also add a photo. To search by anything other than name, you will need to click on the Advanced Search. You can edit your own profile and then see how others would view your information, and hide information that you don't want visible. All updates go back to the Alumni Records Office.
Do check it out! http://alumni.dartmouth.edu/
Harris B. McKee