Dartmouth Class of 1961 FaceBook Page
---
Wide Wide World May 2017 by Tom Conger
HTML Fastest Opening & Quick Links to Major Sections
PDF For Easiest Printing
Older Wide Wide World Editions
Class Robert Frost Endowment Project-2017
Class of 1961 Arts Initiative Awardees
'61s Opting for Electronic-Only WWW
---
The Dartmouth Greek System is under attack by a subset of the Dartmouth faculty. A proposal to address serous issues in under consideration. Add your voice to support by clicking on:
Moving Dartmouth Forward, The Greek Proposal
"The trustees are listening to you, according to this new report from the Alumni Liaison Committee." See: Alumni Resources.
---
50th Reunion 50th Reunion Photos 50th Art Show,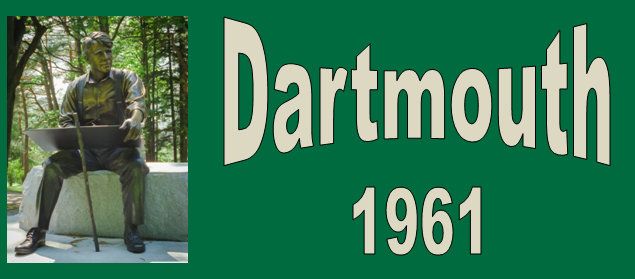 55th Art Show Dick (Running Bear) Noel's Indian Speech(YouTube)
Dick (Running Bear) Noel's Indian Speech (Full Script)
55th Reunion Photos (Password: Dart55th)
Men & Women Photo Class of 1961 - 55th Reunion
2017 Fall Reunion October 6-8
Letter Registration Form
2018 Spring Mini-Reunion Newport
---
---
Class of 1961 Communication Plan

---
Dartmouth History Lesson-Prof. Childs 1957 Lecture to US
---
The Heart of Dartmouth: Baker Library Tower" --a new feature
Enjoy the sounds, images, and history of the Baker Library Tower :
http://www.alumni.dartmouth.edu/default.aspx?id=1833
---
Take An Audio-Visual Tour of Campus
To Get a Dartmouth Email Address or to Locate your Dartmouth friends go to:
and click on "Find it Fast" then choose the option you want.